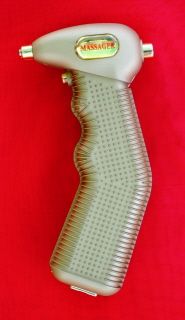 Special Offer For A limited Time
For 5 pieces of the Magnetic Accupuncture Massager, the sale price is only $49.98 ( with S & H fee of $16.95).
If you would like take this opportunity, please pay below.
Product Description
Magnetic Acupuncture Massager Deluxe Bundle contains 10 magnetic acupuncture massagers in a box to facilitate you entertaining your family and friends each with a great gift in this holiday season.
This is a new generation of Pressure Point Pulse Magnetic Massager developed based on physics, modern electro-physiology, and time proven oriental acupressure medicine. It relaxes aching muscles, relieves tension, enhances your skin's absorption of nutrients, helps facilitate blood & lymph circulation, assists in body shaping & fat reduction, and leaves skin looking and feeling smooth and refreshed. Its has a powerful motor. It is portable because it will fit in your pocket, purse, gym bag, and briefcase. It is ideal for the gym, home, office, or travel. The brand new massager is a perfect present for your family, friends, and anyone you really care about.
If you are a wholesale distributor or a retail reseller, we also provide a factory-featured price for the product (no minimum order, we can provide 50,100,500,5000 or more massagers). Please contact us for the price by which you will be surprised! We provide free shipping for bulk order!